La Haute Couture anglaise sur des papiers peints et des tissus d'ameublement

Maître dans l'art de l'impression et du détail, Matthew Williamson a fait de sa signature, un nouveau style d'art, mêlant brillamment l'esprit bohême et le glamour. Il a notamment remporté le célèbre trophée "Red Carpet Designers of the Year" en 2008, lors de la cérémonie des British Fashion Awards.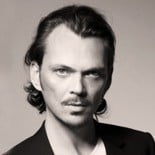 Cela semble presque naturel que le riche univers de ce créateur de mode inspiré se décline dans la décoration, notamment pour le papier peint Matthew Williamson. Du riche savoir-faire d'Osborne et Little, combiné à la passion que Williamson porte au motif, naît une collection de papier peint, de coussins et de tissus Matthew Williamson, qui fait l'unanimité dans le monde de la décoration. Le savoir-faire d'Osborne & Little se retrouve sur toute la collection, particulièrement grâce aux riches effets holographiques ornant certains papiers peints Matthew Williamson. Chaque création allie avec inspiration et pertinence le monde de l'ameublement et l'univers du créateur. Chaque tissu Matthew Williamson est conçu avec passion et s'associe parfaitement aux autres créations, que ce soit le papier peint ou les coussins.