Plus 45 ans d'excellence pour Osborne and Little
Osborne & Little est une des marques les plus influentes au monde en matière de tissu d'ameublement et de papier peint. Cultivant avant tout l'innovation et la qualité depuis plus de 45 ans, elle est devenue l'une des marques britanniques les plus renommées.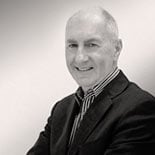 Tout a commencé à Londres quand Peter Osborne - voir photo portrait - et son beau frère Antony Little lancent leur première collection de papiers-peints imprimée manuellement. Grâce à cette technique d'impression artisanales, les papiers peints Osborne & Little remportèrent un succès immédiat.
Quelques années plus tard, la marque se plaçait déjà au coeur de la tendance dans le domaine de la décoration d'intérieur. Le savoir-faire de ce grand éditeur anglais est aujourd'hui unanimement reconnu. Depuis les effets de peinture appliquée à la main de certaines tapisseries murales des années 80, aux revêtements holographiques lancés en 2000, Osborne and Little s'est imposé comme l'un des éditeurs les plus audacieux et les plus créatifs.
Aujourd'hui l'éditeur est plus énergique et inspiré que jamais, générant un flux constant de nouvelles collections surprenantes tout en maintenant une réputation d'excellence. Le papier peint Osborne & Little est l'un des plus réputés au monde, et s'est accompagné de tissus d'ameublement et de coussins. Ce sont dorénavant des gammes complètes où tissus et papiers-peints se complètent avantageusement pour offrir une décoration d'intérieur design et créative.