Les papiers peints anglais les plus réputés au monde
John Perry a marqué l'histoire de l'industrie du papier peint en mettant au point une méthode pour imiter l'aspect brillant de la soie. Il a également relancé le processus de flocage sur tapisserie murale. C'est aujourd'hui la seule entreprise au monde à utiliser cette technique de flocage à la main pour ses papiers peints Cole and Son. Avec les années John Perry accumula une importante collection de blocs en bois sculptés à la main servant à imprimer du papier peint. En 1914, grâce à des rachats faits au bon moment, et d'heureuses fusions de différentes compagnies, Cole and Son possédait des blocs d'impressions ayant servi à faire les revêtements muraux de palais, châteaux et théâtres de toute l'Europe.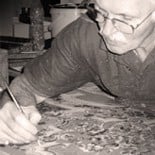 À l'échelle mondiale, Cole & Son est à présent la principale source d'authentiques papiers peints d'époque et est le fournisseur officiel de Buckingham Palace et de la Maison-Blanche. Les archives de la marque servent d'inspiration aux productions contemporaines des collections Cole and Son. La compagnie a collaboré avec des grands noms du design tels que Tom Dixon, David Hicks, Piero Fornasetti et Vivienne Westwood. Vous croiserez peut-être certains dessins de la marque dans des lieux mythiques qui lui ont donné ses lettres de noblesse. Citons particulièrement le motif d'arbres nus du papier peint Woods et l'effet géométrique du Hicks Hexagon dont le succès a transcendé les frontières pour envahir les murs du monde entier.